Previous FPT
www.icfpt.org
About Kyoto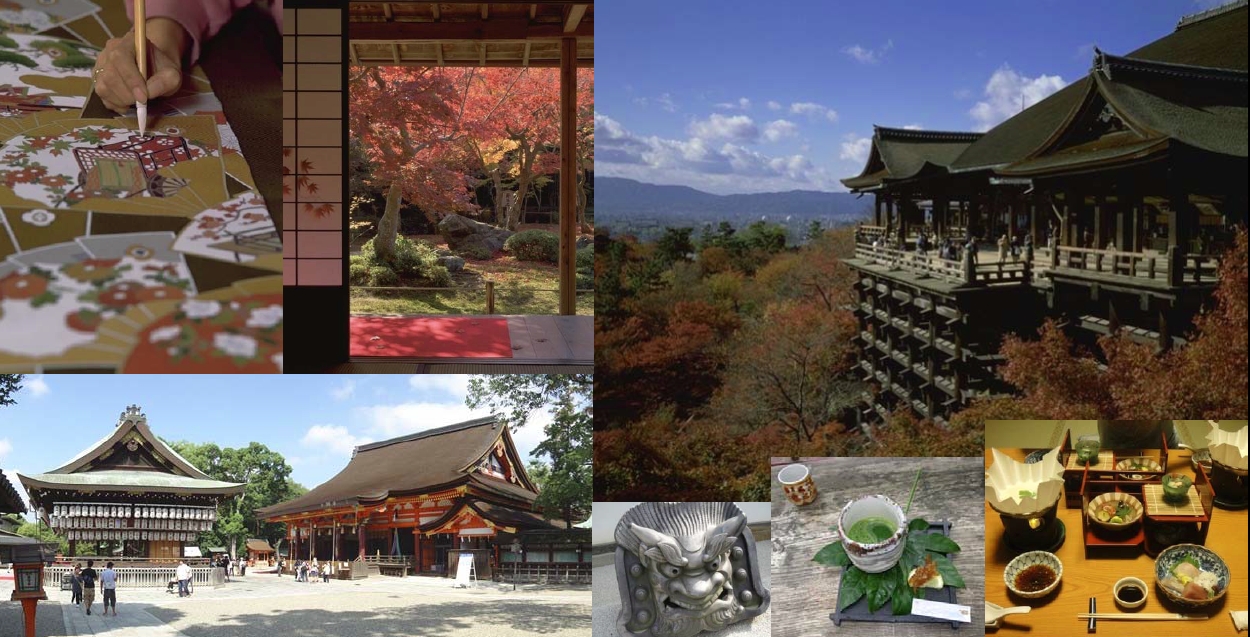 Kyoto is special because it reigned as national capital for more than a 1000 years, which is not only the longest that any city has ruled Japan but also it was the centre of activity throughout the formative years when what we now think of as Japanese culture was born, developed and refined. Kyoto is the city where today during your visit you can delve into Japanese history as well as experience the way of living that keeps Kyoto at the forefront of developing emerging technologies.
Travel Information
From Airports to Kyoto Station or direct to the Venue
Kyoto is located near the centre of Japan and the legendary transport network makes it easily accessible from all international gateways. Kansai International Airport (KIX) is just over one hour away from Kyoto. Flight times to US West Coast and European destinations take just eleven hours, while Australia and Asia are even closer.


&nbspKansai International Airport (KIX)

Kansai International Airport, located slightly over an hour away from Kyoto. Transfer from here to Kyoto station on the JR Haruka express train, direct to your hotel or a conference venue in a shuttle taxi, or take a limousine bus to the centre of the city.





&nbspOsaka Itami Airport (ITM)

Flights from airports in the Tokyo area, including Narita and Haneda, arrive at Itami airport about once an hour. From Itami airport, relax in a shuttle taxi to your hotel or a conference venue, or a limousine bus to Kyoto station.



Osaka Itami Airport (ITM)
Shuttle Taxi
to your hotel or to the venue directly
Approx. 55 min
Limousine Bus
to Kyoto Station
Approx. 55 min
<

*Futher Travel Information & Useful Links
&nbspJR Haruka Airport Express Train

The JR Haruka express train takes just a little over an hour to arrive at Kyoto Station from the Kansai International Airport. The train is speedy and quiet, features wide and comfortable seats, and provides plenty of luggage stowage space. Destinations are announced in both Japanese and English.
&nbsp- JR West

&nbsphttp://www.westjr.co.jp/global/en
&nbsp Haruka's time table is here. [Time Table]

&nbspShuttle Taxi


The taxi takes you to any address in Kyoto that you request be it hotel, meeting venue or anywhere. You share the taxi with up to nine passengers to similar destinations. The taxi journey takes a little over an hour depending upon traffic conditions and the location of your hotel. Services run between Kansai International Airport & Itami Airport, and Kyoto.
&nbsp- MK Taxi Skygate Shuttle

&nbsp- Yasaka Airport Shuttle

&nbspAirport Limousine Bus

There are excellent limousine express bus services from both Kansai International Airport (KIX) and Itami Airport to Kyoto Station. The journey to Kyoto Station from KIX takes about 105 minutes, and from Itami about 55 minutes depending on traffic. The buses have ample luggage space, all announcements are made in English, and you can reserve a seat or just take the next departure.
&nbsp- Kansai International Airport Limousine Bus

&nbsp- Osaka Airport Transport Company Limited (Kansai & Itami Airports)

&nbspJNTO

From Kyoto Station to the Venue

Kyoto Research Park is favorably located in the centre of Kyoto City and taking a train or a taxi would be good choice to go to the Venue.


&nbspTrain

Please take Sagano Line of JR San-in Main Line and get off the first stop, Tambaguchi Station(140JPY). 4 min from Kyoto Station to Tambaguchi Station, and 4 min walk from Tambaguchi Station to Kyoto Research Park.


&nbspTaxi

It takes only 10 min from Kyoto Station(Approx. 1000JPY). You can find taxies easily in front of/around Kyoto Station.



Further information
&nbsp - Kyoto City Transport Department

&nbsp Guide to using Kyoto City public transport incl. subway map and ticket guide.
&nbsp http://www.city.kyoto.jp/koho/eng/access/index.html

&nbsp - Kyoto Cycling Tour Project