HEART2013 Registraion
Welcome to HEART2013, the symposium is now open for registration.
HEART2013 Registration Fee:

Early registration

(before 20th May)

Standard registration

(after 20th May)

Student

140 GBP

190 GBP

Non-student

190 GBP

240 GBP

Optional cost

Additional ticket for banquet

50 GBP

One-day tour to Loch Ness

55 GBP
The registration fee can be paid through our university payment link:
Each accepted paper (regular paper or poster) requires one registration.
The registration covers one ticket to the banquet at City Chambers. As an option, we offer additional places for attendees to bring their families or friends to join the banquet. The one-day tour to Loch Ness costs £55 per person, which is open to everyone but not included in the registration fee.
We encourage participants to register as early as possible. There is no on-site registration allowed so all registrations have to be paid on-line.
Cancellation Policy
Fees must be paid in full before commencing the course/conference. Cancellations received in writing up to 15 working days before the course/conference commences will incur a 20% administrative charge. After this date, fees will not normally be refunded, but places are fully transferable. Telephone cancellations must be confirmed in writing.
The University of Edinburgh reserves the right to cancel or postpone any course/conference, in which case, fees will be refunded in full. In the event of cancellation, The University of Edinburgh will not be held liable for registrants' travel or accommodation costs. Fees for on-line courses are non-refundable.
News
+ HEART2014 will be held in
Sendai, Japan
9th -11th, June, 2014.
WEB page will be available soon
at http://www.isheart.org
+ HEART2013 Keynote Speakers:
+ Selected accepted papers at
HEART 2013 will be included in
post-proceedings of
Special Issue on ACM SIGARCH
Computer Architecture News
(CAN)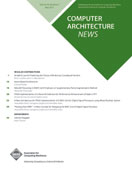 + HEART2013 Sponsors: