Welcome to Our Department of Computer Science
This is the Information Age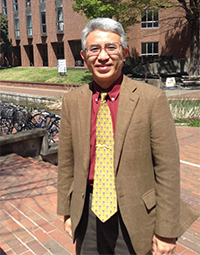 The modern world overflows with a plethora of information: worldwide news, disaster reports, product information from companies, and information posted by individuals on social media sites.
Recently, there are many topics related to new information technology such as information extraction from enormous data called Big Data, autonomous judgment / recognition by Artificial Intelligence (AI) and machine automation.
Computer Science is the field of research and technology that covers an extremely broad range of subjects, from computers, networking, security, and other fundamental technology to web applications, user interfaces, voice and image recognition, and supercomputer calculations, aiming generation, processing and application of "information".
A Super-Staffed Faculty
Our department of Computer Science is proud to be at the bleeding edge of Japan's technological frontier. Our faculty consists of 76 members (29 professors, 26 associate professors, 3 lecturers and 18 assistant professors, as of April 2018). They cover almost all fields within Computer Science, so I am sure you can find a professor working in your field of interest. Also, the student-to-professor rate is small within our laboratories, so you will have the pleasurable experience of a man-to-man education.
Graduate Students in High Demand
After finishing Master's program, students enter a wide range of companies such as information and telecommunications industries, as well as the automobile and electronics manufacturing, banking, television stations, and entertainment sectors.
After finishing Doctor's program, students mainly work as researcher at industries, universities, research institutes, etc.
The world of information has ushered in the common use of technology, such as the Internet and smartphones, which did not even exist a few years ago. With the unprecedented speed of these technological advances, there is a demand for a large number of technical experts. Graduates are actively working in a wide range of fields that all require this information.
Change the World with CS!
We look forward to meeting those of you who want to use Computer Science (CS) to make the world a better, more fun place to live in, as well as those of you with big dreams and ambitious spirits.
1 April 2018
Akihisa OHYA (Chair)
Department of Computer Science
Graduate School of SIE,
University of Tsukuba
Features
The Department of Computer Science covers a wide range of research and education from fundamental information technologies to leading-edge technologies. Due to the development of the internet and mobile communications, the rapid expansion of digital data, and the explosive growth of multimedia, the society needs people who have knowledge of computer science, who can take a new point of view and develop a fundamental theory, and who can lead technology development. The department seeks to cultivate such people.
Specific research fields include :
(1) Information Mathematics and Modeling,
(2) Intelligent Software,
(3) Software System,
(4) Computer Architecture,
(5) Media Engineering,
(6) Intelligent System.
Graduate students develop keen skills on theoretical and mathematical methods for information modeling, analysis and resolution methods from the synthetic viewpoint of hardware and software. The department fosters researchers capable of analyzing and solving various problems in computer systems and related fields as well as engineers capable of developing and utilizing actual systems.
Destinations of Graduates
Our graduates enjoy high expectations to take leadership in this information society. Among those students who completed our Master's program and were awarded degrees, about 80% went into employment while about 10% continued on to doctoral programs. Students who completed our Doctoral program and obtained degrees are working in universities, national research institutes and R&D sections in industry. Some of those continue research as Post-Doctoral researchers at universities.
Destinations of Master's program graduates (FY2012-FY2013)

Industry 199, Further study 22, Others 29

Destinations of Doctoral program graduates (FY2012-FY2013)

Industry 11, Universities, research institutes 8, Post-doctoral researcher 3, Others 11

Master's program graduates are working for employers including (FY2012-FY2013)

Acroquest Technology, Capcom, COLOPL, Dwango, Fuji Xerox, Fujitsu, Hitachi, IBM Japan, IVIS, J-POWER, Marvelous AQL, Mynet, NEC, NRI, NS Solutions, NTT, NTT Data, Rakuten, Ricoh IT Solutions, Toshiba Solutions, Yahoo, etc.

Doctoral program graduates are working for employers including (FY2012-FY2013)

AIST, ATR, Axell, Fujitsu, IIJ, KEK, Ministry of Defense, NARO, National University of Defense Technology, NEC, NTT, Panasonic, RIKEN, Samsung Techwin, Toshiba, Toyohashi University of Technology, Universitas Hasanuddin, University of Tsukuba, etc.